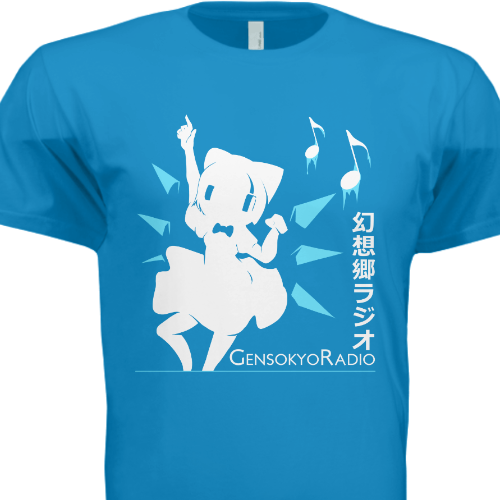 Touhouette Series - Chill Cirno T-Shirt
$25
This is a pre-order item available for order until August 1st, 2021. Orders will be shipped out from mid-to-late August.
Limited stock *may* be available after the pre-order.

Cool down during the warm months (or any time) while wearing a shirt from the second set in the "Touhouette" series.
The style of this series takes after the classic silhouette commercials from a certain well-known technology company, as well as the well-known Bad Apple silhouette music video, and puts a music enthusiast's spin on characters from the series.
Designed in collaboration with NanoSatellite, this shirt features Cirno accompanied by some "chill" music notes, and is (probably) listening to some fan-arranged stage 1 theme on Gensokyo Radio.
Details
- Screen-printed on a fitted Next Level Apparel T-Shirt
- 100% combined ringspun cotton, makes for a very soft cotton shirt
- Small Gensokyo Radio Logo printed on upper back