About
What is Gensokyo Radio?
Established in 2011, Gensokyo Radio plays fan-made music from the Touhou Project video game series through our 24/7 internet radio station to promote and support independent music artists and creators. We have worked with several artists and related groups in the U.S., Japan, and overseas to bring this niche set of music to audiences around the world via our platform, helping artists to self-publish, educating fans, and advocating for live music events.
Our Story
In the early 2010's, western audiences often found Touhou-related fanworks through channels such as YouTube or Nicovideo. Often, works were posted by unaffiliated channels, videos either didn't credit or miscredited artists, or credits would be incomplete. In the worst cases, channels would be monetized to capitalize on the works of others with zero upfront or ongoing costs for channel owners. During this time, the only official channels of distribution were physical market events in Japan and other pop-up venues elsewhere in Asia.
In March 2011, two fans by the names of Auritribe and Kyosagi wanted to change that. They did so by spinning up their own dedicated SHOUTcast radio station and played works from their own personal libraries. They paid particular attention to song metadata and provided it to listeners via a Wordpress template website. They would provide news and updates related to the series by posting on the website, and would occasionally share works or crossfades published by artists on their own first-party channels.
In December 2011, after facing several challenges related to station promotion and unrelated issues, Auritribe offlined the radio station. Two days later, LunarSpotlight, who had helped with promotion earlier that year, decided to spin something back up and moved the station from Auritribe's premade system to a custom SHOUTcast implementation. In the months that followed, the radio station experienced consistent growth, server infrastructure was updated to accommodate a growing number of listeners, and the website was updated with additional features that brought things like user accounts, song ratings, and additional song information to site visitors.
Within the following two years, LunarSpotlight became the new owner of Gensokyo Radio. Additional staff members were brought in to help out with various aspects of the station, plus new programs such as Gensokyo Radio Live were started. Many of the people, programs, and systems that were started during that time persist today.
---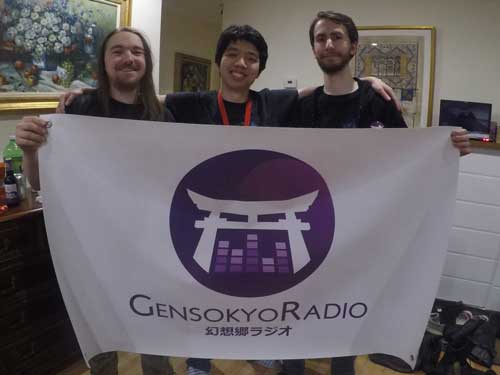 Since then, Gensokyo Radio has communicated with countless artists and continues to support their works the same way the founders did: by buying albums directly and encouraging station listeners to do the same. Though the modes of distribution for Touhou-related fanworks have grown, purchasing physical albums, where available, remains the most direct, most immediate, and overall best way to support the crafts and passions of artists around the world in this niche space. We've also worked with artists to bring several works into reality through publishing, where they would otherwise only be available digitally.
Beyond simple support, we've worked with multiple event groups to advocate for live music events to help artists reach more fans beyond Asia and better connect with fans around the world. We've had the privilege of chatting with many game developers, publishers, music arrangers, vocalists, instrumentalists, YouTubers, event organizers, cosplayers, DJs, and more via our radio station's live broadcast and community-oriented programs. We're working to build a community of collaboration and foster a space where creators of all kinds can connect with others and create new and exciting fanworks, even beyond the realm of music.
Ultimately, we wish to support the amazingly talented community behind the works that we and millions of fans around the world enjoy, and we hope to continue our role as one of the western hemisphere's leading advocates of fanworks derived from the Touhou Project video game series from here onward.
The Staff Team
LunarSpotlight, Station Manager (2011 - Present)
NanoSatellite, Assistant Manager (2012 - Present)
DMJ654, Editor & Co-host (2014 - Present)
Xara, Library Manager (2017 - Present)
Past Staff Members
Sean "Sonicmega" Chiplock (2012 - 2017)
Puzzle Plate (2013 - 2018)
Emurock (2016 - 2017)